'Tis the season to go green: Singapore's largest eco-friendly lifestyle festival is coming to town!
Running for the whole month of December, LOOP will bring together 100 local craft makers, food and beverage vendors, and household and beauty companies that focus on environmentally-conscious products, for a wholesome and fun-filled wellness event unlike any other.
Free Outdoor Movies!
Taking place at Esplanade Park every week, there will be picnic-style movie screenings on the lawn that focus on sustainability-related themes. You can also purchase reserved seats that come with the best views in the house, pallets, cushions and a basket of snacks!
Movie titles:
7 December, 8pm - An Inconvenient Truth
8 December, 8pm - An Inconvenient Sequel
14 December, 8pm - Wall-E
15 December, 8pm - Pom Poko
21 December, 8pm - The Lorax
22 December, 8pm - A Beautiful Mind
23 December, 8pm - Song Of The Sea
24 December, 8pm - The Nightmare Before Christmas
25 December, 8pm - How The Grinch Stole Christmas
28 December, 8pm - The Jungle Book (1967)
29 December, 8pm - Princess Mononoke
Eat, Drink, (Work) Shop!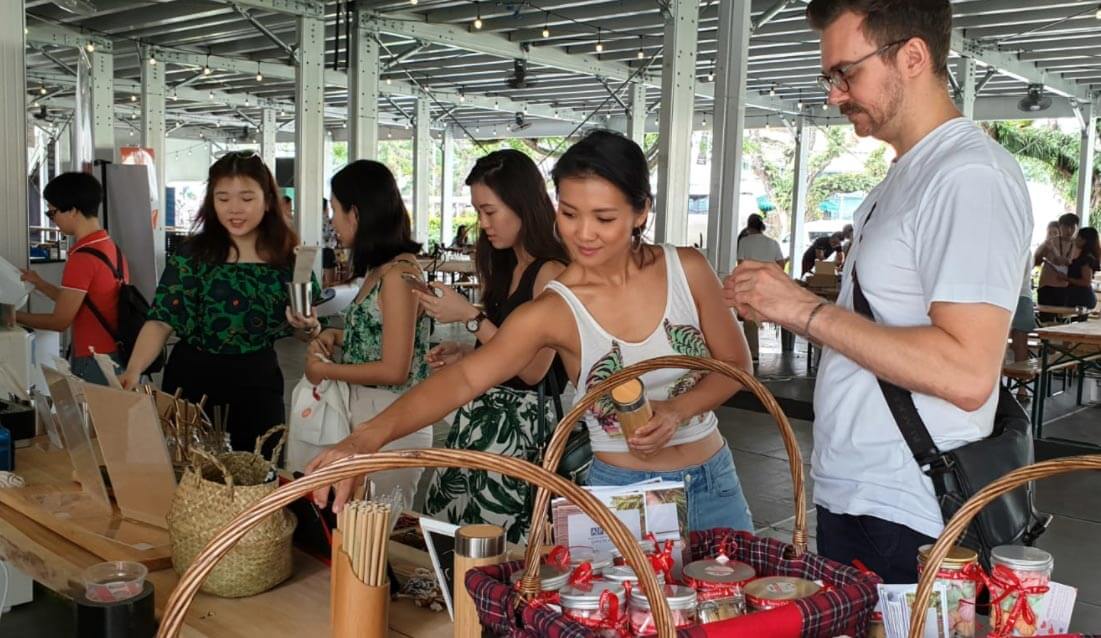 Indulge in a pre-Christmas bespoke shopping experience with awesome brands like Naiise, Wmarket, Boxgreen, The Fashion Pulpit and Swapaholic, while pigging out to delicious food from Hook Coffee, The Bulb Station, Sawadeecup, and many more.
Besides getting your retail therapy fix, you can also participate in the experiential workshops offered across the five weekends including calligraphy using eco-friendly ink, Beeswax cloth wrap making, Christmas wreath flower arrangement, and other cool happenings such as coffee and wine appreciation workshops, and farmers market with live cooking stations.
Upcoming Highlights:
6-7 December, 7pm - Oyster Appreciation Night
8 December, 10am - Unplug & Play
9 December, 10am - 12.30pm - TEDxPickeringStreetSalon: Futureproof Children
9 December, 3pm - 4pm - Fashion UP!
9 December, 6pm - 8pm - We Dance at LOOP
14-25 December, 6pm - 12 Days of Christmas Picnic
14 December, 1pm - 2pm - Hapa Zome Workshop - The Art of Japanese Leaf Dye
15 December, 2pm - Christmas Gifting: Quality Upcycling & Delicious Chocolates
15 December, 5.30pm - 6.30pm - Complimentary Outdoor Yoga with YOGA SEEDS
21 December - 6pm - The Secret Santa Picnic Party
21 December - 1 January - Christmas Pop-up Market
28 December - 3pm - 4pm - Growing Microgreens At Home
Don't forget to join LOOP in consuming consciously! Special perks such as free metal straws can be yours when you hashtag #LOOPSG at the event, plus coffee for a dollar when you bring your own mug!
---
LOOP
The Incubator, Esplanade Park
1 December - 31 December 2018
Tue - Fri: 4pm - 10pm
Sat - Sun: 10am - 10pm
For more information, visit www.loopsg.com.